Animals, Wildlife, Petting Zoos
Farms, Gardens, Nature Sites
in Berkshire County MA
---
HINT: Use your Browser's 'FIND' feature (Ctrl + F) to locate specific attractions on this page
[ex:

'petting zoo', 'bird', horse', 'sanctuary', 'farm'

]
---
Bartholomew's Cobble, Weatogue Rd, Sheffield MA 01257 413/229-8600 MA Tour the cobbles, trees, understory plants & river on the Ledges Trail, which also passes two small caves kids love to explore! You can also trek through open fields, transitional forest, and freshwater marshes with beaver ponds along the Cobble's other trails. Mix natural history with some cultural history: follow the trail that leads to the nearby historic Ashley House, from where enslaved African American Mum Bett (Elizabeth Freeman) sued for her freedom and won.... helping to end slavery in Massachusetts. Natural History Museum and Visitor Center.
Bartlett's Apple Orchard 575 Swamp Road, Richmond MA 413/698-2559 - New England gourmet farm products & handmade apple gift boxes. "The Best Apple Picking in Massachusetts", (from Labor Day to Columbus Day). A great place to visit on autumn foliage trips, New England family vacations or New England weekend getaways! Schedule a tour of the orchards! Open 7 days 8 to 5:30.
BERKSHIRE MUSEUM AQUARIUM: 39 South St, Pittsfield MA 413/443-7171 - Berkshire Museum's Aquarium features more than 20 aquarium tanks (up to 535 gallons in size!) & assorted terrariums (with both local & exotic species). Venomous lionfish, moray eels, and piranha are among the more exciting specimens on view, as well as exceptional displays of living corals and other invertebrates, fishes, insects, spiders, amphibians and reptiles. Familiar species of Aquatic Life like clownfish and yellow tangs; unusual animals like puffer fish. Live coral reef tank containing roughly 25 species of coral, plus a variety of other invertebrates & fish. Get an up-close view live turtles, chameleons and snakes (and toads, frogs & salamanders, too!) ... originating from Berkshire ponds, deserts, grasslands, and rainforests of the Middle East, Australia, and South America! Learn about the Endangered Red-Bellied Cooter Head Start Program!
Berkshire Botanical Garden a glistening community gem
Route 102, Stockbridge MA 413/ 298-3926 - Tour 15 acres of cultivated land, 3000 species (functional & ornamental) in public display gardens. Picnic, View exhibits. Annual October Harvest Festival.
Berkshire Horseback Adventures, Aspinwall Equestrian Center - Rte 7, Lenox MA - An array of horseback riding options, from one hour pleasure rides to overnight camping trips. Bring your sense of adventure! Guided Trail rides with Professional Horsemen.
Berkshire Humane Society Helping Animals and People since 1992." 214 Barker Road, Pittsfield MA 413/447-7878 - Visit the shelter, pet and walk the animals awaiting permanent homes. FREE!
Berkshire Mountain Llama Hike - "...a beautiful place to relax, restore and return to nature!"
322 Lander Road, Lee, MA - 413/ 243-2224 - Llama hikes, Meditation Retreats & Training, beautiful B&B lodging. Peaceful and quiet beautiful Berkshire farm with sheep, bees and large organic fruit / vegetable garden.
Blue Rider Stables - "...a holistic experience for animals & people!"
15 Farm Lane, South Egremont MA 01258 | 413/528-5299 We offer positive, safe riding experiences for adults and children of all ages, including those who are physically, emotionally, and/or mentally challenged. Our mission is to offer a holistic educational environment in which people and animals can safely interact, and through their mutual therapeutic experiences, broaden the scope of their lives.
Eleanor Sonsini Animal Shelter "Volunteers are essential to the success of any animal shelter." Downing Industrial Park, Pittsfield MA 413/448-9800 - Walk, cuddle, groom and play with the animals awaiting homes. FREE!
SUMMER FUN FOR KIDS & TEENS, 5 - 15! NATURE DAY CAMP
BERKSHIRE WILDLIFE SANCTUARY's KIDS' SUMMER DAY CAMP!
ACTIVITY LOCATION:Pleasant Valley Wildlife Sanctuary 472 W Mountain Rd Lenox MA 01240
MORE INFO: 413/637-0320
Since 1947, Pleasant Valley's camps have allowed many generations of children to explore the natural world of the Berkshires. Approximately 1,400 acres of forest, meadow, mountain, brook and beaver ponds provide a wonderful outdoor laboratory for children. The one week camp session program run Monday thru Friday 9am - 3pm and include daily field trips to different ecological communities to observe animals and plants; related nature crafts, games, and songs; a hike to the summit of Lenox Mountain (ages 9-14 only), a cookout an overnight & more.
(Download a 2011 Summer Day Camp Brochure!)
Furnace Brook Winery at Hilltop Orchards Rt. 295 / 508 Canaan Rd., Richmond, MA 413/698-3301 - 100 year-old farm set on 200 scenic acres in the Berkshires. Stroll about the apple orchards, or hike, ski or snow shoe the private back country trails. Apple picking, Hay rides, Free wine tasting.
Green River Farms, 2480 Green River Rd., Williamstown MA 413/458-2470 - Pick your own strawberries, blueberries, garden veggies and pumpkins during the harvest season. LOTS of animals at our petting zoo! Take a fun guided tour of a real working farm! Sunset Wagon Rides, Seasonal Corn Maze, Pony Rides on weekends! Green River Farm opens in spring for the 2011 season. Hours: DAILY til 7pm.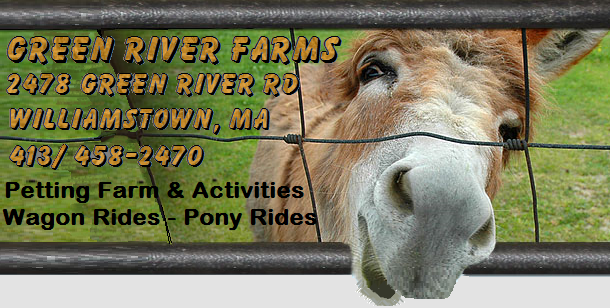 ---
Hancock Shaker Village "The City of Peace." - a retreat from today's hectic pace."
Route 20 & 41 Pittsfield MA 413/443-0188 - Restored 18th Century Shaker village preserves a simple, peaceful, efficient life-style. Animal farm, tours, galleries, exhibits, hands-on activities. Library, hiking trails, Cafe, Gift Shop. Entertaining & educational family day, with activities indoors and out, special programs and exhibits. Open Daily 10am - 4pm April thru January. Hancock Shaker Village reopened for the 2011 Season on April 16th. (Sorry, this year's special 'Baby Animals' ended May 8, 2011!) Visit the new lambs, piglets, calves and chicks filling the famous Round Stone Barn. Also, the heirloom gardens come alive; lend a hand with farm chores, explore the historic buildings!
High Lawn Farm Summer St., Lee MA 413/243-0672 - The last remaining complete dairy farm in the Berkshires - producing, bottling & delivering its own milk - for over 100 years. Call to schedule a FUN tour for your family or group!
HIKING TRAILS IN THE BERKSHIRES! - Our Sports, Fitness & Wellness page features 10 of Berkshire County's favorite hiking trails ... from Sheffield & Stockbridge to Pittsfield & Lanesboro - (easy, moderate or strenuous) we have a trail to hike for you!
LAKES, PONDS & WATERFALLS: - Did you know the Berkshires is home to seventy five bodies of water!? We've listed (and mapped) each and every one in Berkshire County for you! So whether you are looking to picnic, swim, ice skate, boat or fish - locate the perfect spot here!
MA Audubon Pleasant Valley Wildlife Sanctuary "Protecting the Nature of Massachusetts."
472 West Mountain Road, Lenox MA 413/637-0320 - Walk 7 miles of trails, visit the nature center, bring a picnic lunch! Nominal Admission Fee.
Uncle Don's Barnyard - Ioka Valley Farm Seasonal Farm Fun for ages 1 to 101!
3475 Route 43, Hancock MA 413/ 738-5915 - Unique farm experience in the Beautiful Berkshire Hills - fun for the whole family! Friendly farm animals to pet & feed. Wagon train ride, pedal carts, 40' pipeline slide, hay tunnel, wiggle cars, outdoor farm theme playground, farm library, sandboxes inside & out! Uncle Don's Barnyard is open Tuesday thru Saturday, 10am – 5pm, (June thru September), rain or shine! WINTER FUN at IOKA VALLEY: a hayride in 'Santa's Cap' to vist the Christmas Tree Plantation! Warm yourself by our woodstove and nibble on some fresh popcorn as you browse through our farm stand with its selection of wreaths, handcrafted decorations, gifts, and more.
Undermountain Farm Horseback Riding "Year-round riding is a pleasure at Undermountain Farm." Undermountain Road, Lenox MA 413/637-3365 - 150 miles of pasture, indoor and outdoor arenas. Trail Rides/Lessons/Pony Rides $20-$60/person.
Whitney's Farm Market & Garden Center Rte 8, Cheshire MA 413/442-4749 - Farm & garden center with a Kid's Playland & Animal Petting Zoo! (Whitney's opened for the season April 1st 2011).
Windy Hill Farm Rte 7, Great Barrington 413/ 298-3217 - 7 acre apple orchard, a 1 acre blueberry field - bring the family and pick your own! (Open seasonally, April 1st - December 24th).
---
...A beautifully restored 200 year old
New England Post & Beam barn along the Race Brook at the base of the Taconic Range in the historic
Berkshires, Massachusetts.
Hiking trails to Race Brook Falls and beyond are only steps away from your accommodations in the lodge, cottage, or coach house. Low keyed, informal rustic retreat, the perfect place to relax in a scenic Berkshire country setting.
▸ Restaurant ▸ Pool ▸ Wireless Internet on site.
Race Brook Lodge •864 S Undermountain Rd (Rt 41) •Sheffield, MA 01257 •1-888-RBLodge or 413-229-2916
---